During an interview with Plastics News at the September Drinktec 2022 beverage fair, Marketing Manager Nina Wang at Selangor, Malaysia-based plastic recyclate producer Intco Malaysia Sdn Bhd. said 2022 marks the first time the company will exhibit at a K fair.
She added that although Intco is also exhibiting at Pack Expo in Chicago, which overlaps with K 2022, the company's owner "Frank" and CEO "Jenny" decided to be at K. It is a busy time for Intco, with the decision to exhibit at Drinktec having been decided just two months before the fair opened.
Another Intco group company, Jiangsu, China-based Zhenjiang Intco Environment Co. Ltd. (Hall 9, Booth D22) is marking its third K fair, Wang said. The reason why these two companies have different booths reflects their different business models.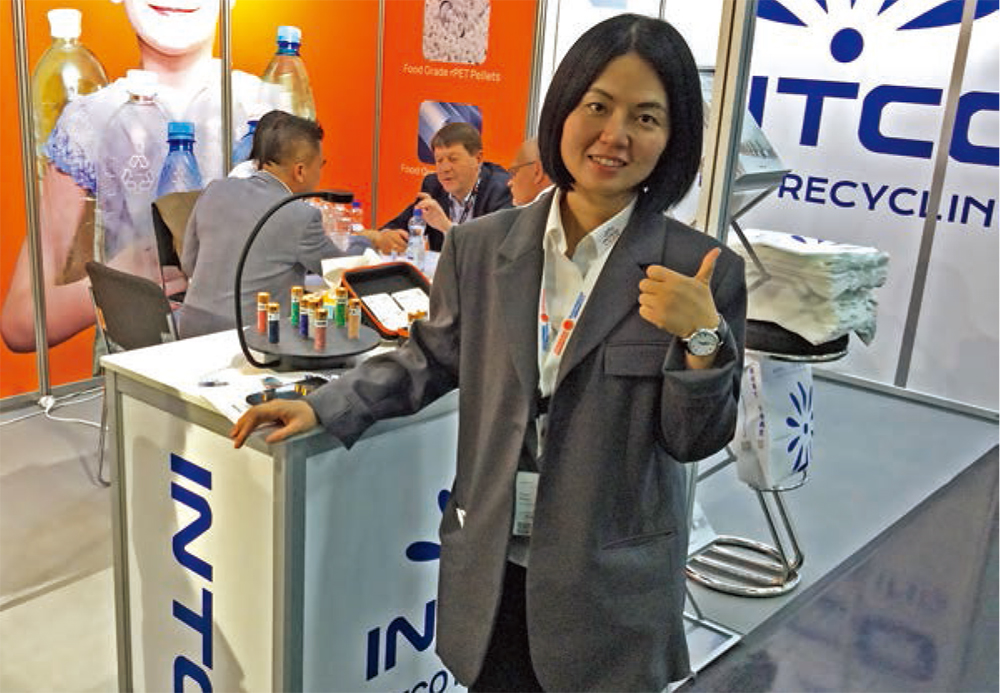 While the Zhenjiang Intco produces Greenmax compacting, shredding and grinding machinery, the Malaysian operation produces 100,000 tonnes per year of recycled polystyrene — PS and EPS foam — and 50,000 tonnes per year of PET in flake and pellets, as grades for bottle, fiber and rigid packaging.
"We expand every year. We recently bought a further factory in Malaysia, and that will help us to meet our plan to double the volume of recyclate we produce within the next five years," Wang told PN. This means 300,000 tonnes per year of PS and 1 million tonnes per year of PET, Intco has indicated, along with the intention to also start polyethylene and polypropylene recycling in future.
Intco started PS recycling 20 years ago and only started PET recycling four years ago, Wang said. The PS recyclate is typically used to produce profiles, used in products like mirror and picture frames, produced by Intco Shanghai, Intco Shandong and Intco Lu'an in China and the new Intco Vietnam subsidiary founded in 2022. The frames and various indoor and outdoor decorative products are sold via 200 retail stores in 120 countries.
The company collects bottle waste in Asia and some other regions to produce recyclate that can be processed back into new recycled PET food-contact-grade packaging trays and bottles. The process starts with two manual sorting stages and photoelectric color sorting prior to washing, Wang said.
Wang admitted recycled PET pellets and flakes are slightly more expensive than virgin material, due to "a very long chain from collection, through separation and washing." But that doesn't deter Intco, as it knows the plastic packaging taxes proposed by the European Union will help shift the market toward recycled pellet use.
But equally, she stressed, "the OEMs, meaning mainly the large well-known international consumer goods brand owners, need to take on the responsibility by not taking oil out of the ground."
"We are not talking about taking business away from others, but we need and must have this type of project for the earth," Wang observed.
Another Asian PET recycler at Drinktec was Senai, Malaysia-based Hiroyuki Industries (M) Sdn. Bhd. (Hall 7, Level 1, Booth E30), which will expand its present 40,000 tonnes per year production capacity by an additional 20,000 tonnes to 60,000 tonnes by 2023. This involves IV+ technology from Vienna-based Starlinger & Co. GmbH (Hall 9, Booth D07). This is a process that starts with hot caustic washing, drying and crystallization of PET flakes obtained mainly originating from post-consumer PET containers, with no more than 5 percent PET from nonfood consumer applications, Hiroyuki said.
The crystallized PET is then extruded and granulated into pellets, which are then further crystallized and pre-heated for treatment in a solid-state polycondensation reactor. This restores the intrinsic viscosity to the level of virgin PET, an essential need in order to have suffcient cient melt strength in PET blow molding. At its Drinktec booth, Starlinger displayed examples of PET flakes and pellets, as well as recycled high density PET flakes and pellets.
Reprinted from Plastic News, By David Vink.